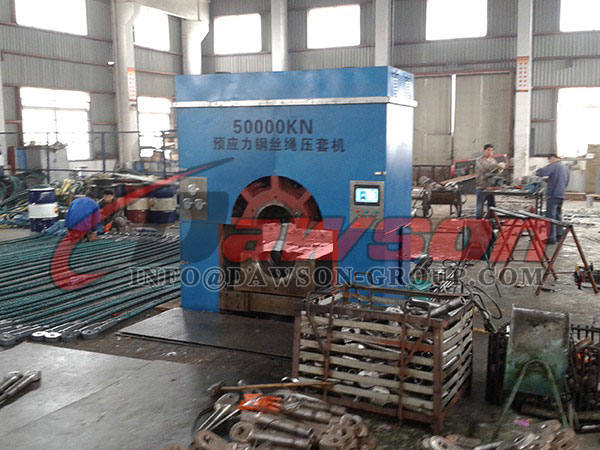 How to inspect the Dawson wire rope press machine in operation
- Dawson Group Ltd. - China Manufacturer, Supplier, Factory
  1, the machine does not work. There are two cases, one is that the electromagnetic head is normal, which can be checked by the overturn motor, generally because of the power supply backward reasons. The second case is that the electromagnetic head is non-magnetic, the cause is zero line circuit break, can be checked by checking the power supply, put on the line to check.
  2, fuse burn. It's easy to find out the breakers and replace the new ones.
  3, machine noise is too large or motor overheating. The wiring of the motor can be checked, usually caused by the wrong connection of the power supply.
  4, piston rod with oil. This is due to the wear of the seal ring. New sealing rings should be replaced.
  5, automatic switch button to return. The reason is that the system pressure is high and the pressure should be reduced to 4.5MPa.
  6, hydraulic cylinder piston abnormal movement. In three cases, check the pedal when there is no upstream, if the pedal is not magnetic when stepping down, indicating that the valve spool is stuck, please open to clean. If there is no downlink, check whether the spool is loaded, if it is reversed, please disassemble it and re install it correctly. When the top and bottom are not available, disconnecting the plug is usually due to poor contact between the plugs and the need for repair.