Dawson Products General Safety Warnings
Failure to follow regulations, instructions, warnings, and proper use, care and inspection criteria may result in cargo damage, severe personal injury, or death. These products are used entirely at the users' own risk. Use of these products demonstrates an understanding of the warnings and the risks involved.
WARNINGS
Prior to using any product from our website, catalog, price sheet, or from any other exaloy information, carefully read and follow all available instructions, warnings and safety information.
It is the owner's/user's responsibility to evaluate the suitability of any cargo securing device or other product for any particular need or application, and to use the products in accordance with all applicable federal, provincial, state, industry, trade association, and local regulations.
All ratings referenced in this website, catalog, price sheet, or from any other exaloy information, are for products in new condition. Age, wear, damage, deterioration, and environmental exposure can greatly reduce strength. All products should be regularly inspected and any worn, cut, aged, damaged, misused, overused, or improperly maintained product should not be used and should be taken out of service and replaced immediately.
Ratings are based on a straight tensile pull. Load directions other than straight can result in a significant reduction in breaking strength.
Listed breaking strengths do not imply any particular working load limit.
All cargo restraining assemblies or systems are only as strong as the weakest component, including the point of attachment. Caution: never exceed the working load limit of any component.
WARNINGS
Never exceed the Working Load Limit
The Working Load Limit is the maximum load which should ever be applied to a product, even when the product is new and when the load is uniformly applied – straight line pull only. Avoid side loading. All catalog ratings are based upon usual environmental conditions, and consideration must be given to unusual condition such as extreme high or low temperatures, chemical solutions or vapors, prolonged immersion in salt water, etc. Such conditions or high-risk applications may necessitate reducing the Working Load Limit.
CHAIN WARNINGS
Inspect the entire chain before each use. Do not use if the chain is elongated, or has nicks, cracks, and gouges in any link.
Do not expose the chains to temperatures outside the -40 °F to 400 °F temperature range or to chemically active environments such as acids and corrosive liquids.
Remove the chain from service if the material thickness at any location of the chain link is less than the minimum thickness listed in the National Association of Chain Manufacturers (NACM) welded chain specifications.
Each chain is only as strong as its weakest link, including the point of attachment.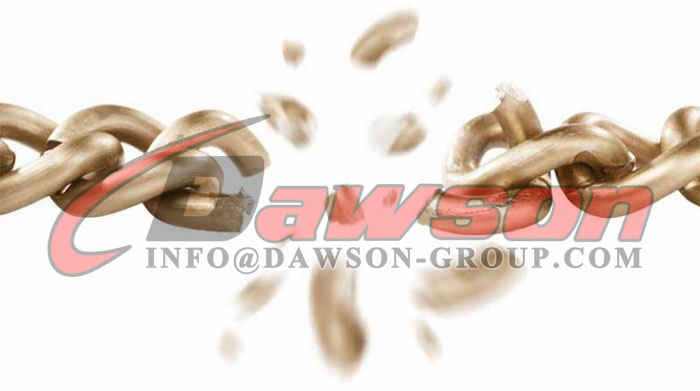 CHAIN BINDER WARNINGS
Load binding systems store energy that can release suddenly, causing serious injury or death. Stay clear or binder, as it may suddenly release with force.
Failure to comply with this warning may result in serious injury, death, or cargo damage. This product is used entirely at the users' own risk. Use of this product demonstrates a clear understanding of the warnings and risks involved.
*Select the load binder that meets the Working Load Limit (WLL), grade of the chain, grab hook, and anchor point intended to be used with the binder.
*Inspect the load binder before each use. Do not use if it is defective, deformed or damaged in any way; do not repair or attempt repair; immediately remove the binder from service.
*Do not use lever bars, "cheater bars" or extenders when tightening chain binders. Hand tightening will load the binder to its specified Working Load Limit (WLL).
*Tighten chain by positioning the load binder so the handle can be pulled downward.
*When operating, stand securely on the ground; do not stand on the load.
*Each load binder must be secured in a manner that prevents it from becoming loose, opened, or released while vehicle is in transit. Latches, chain wrap, or other means should be used to secure the load binder handle.
*Use extreme caution when releasing the load. Position body out of handle path as stored energy can suddenly transfer to the handle during release, causing serious injury or death.
*Periodically clean and lubricate all moving parts of the chain binder.
*Refer to the applicable Federal, Provincial, State, and Local regulations.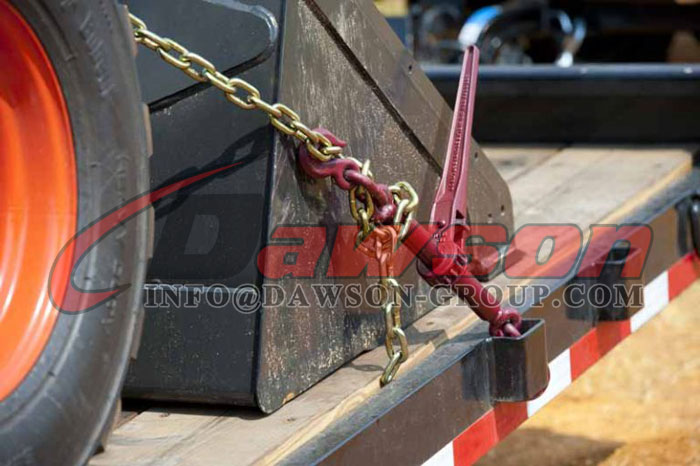 OVERHEAD LIFTING SLINGS WARNINGS
*Synthetic products can fail if damaged, misused or overloaded. Inspect slings before each use. Slings are NOT for use by untrained personnel. Death or serious injury can occur from the improper use, maintenance or lack of regular inspection for damage or defects.
*Synthetic products can be cut through contact with load edges. Padding or protection of sufficient strength and thickness must be used to protect the sling from damage.
*Do not use slings to pull on objects in a snagged or constrained condition.
*Position the body out of the path between the sling and the load. Stand clear of the suspended loads.
*Never use slings when the load may possibly slip or slide. This loss of control can result in sling failure, serious injury or death. Always control the load.
*Do not use if the red core warning yarns or any inner core fibers are visible. Do not use if cuts, abrasions, knots or other defects are present.
*Never overload the sling beyond the Working Load Limit (WLL). Always take into account the effect that angles have on reducing sling capacity.
*Never expose slings to alkalis, acids, caustics and temperatures above 194 °F/90 °C and below -40 °F/ -40 °C.
*Do not expose slings to extensive sunlight or ultraviolet light. Store slings in a cool and dry place when not in use.
*Do not use slings if the attached fittings are damaged, stretched, distorted or corroded.