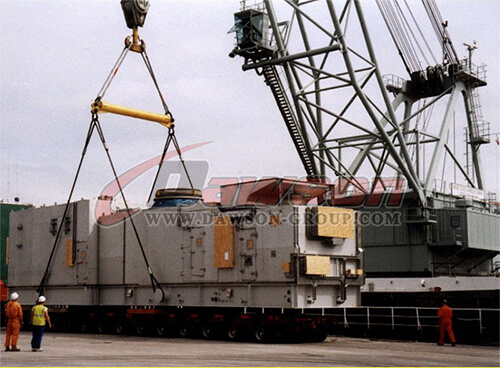 Lifting and rigging attachments are used on a crane or hoist between the hook and the item to be lifted. Lifting and rigging attachments must be properly configured for the weight of the load, the type of crane or hoist, and the type of chain, rope, or hook being used to lift the load. There are many different product types. Choices include: C-hooks, clamps, fork tines, grapples, lifters, magnet lifters, shells or buckets, sling release systems, spreader beams, tongs or grabs, vacuum lifters and weighing equipment. Maximum load capacity, maximum lifting volume, and application or use are important specifications to consider.
Lifting and rigging attachments include a wide variety of components, such as lifting magnets, beam and girder clamps, plate clamps, grabs and tongs, spreader beams, specialty latches, and other fittings designed for use with slings. A load leveler or an end fitting is commonly used as a sling attachment to stabilize the load. Forklifts can be fitted with lifting and rigging attachments such as booms, rams, and extensions to augment the lift's reach, or drum grippers and rotators. A hoist attachment that works between the hook and the load includes a coil lifter, tongs, spreader beams, and pallet lifters. Special hoist rings are also designed to handle different types of lifting configurations, such as a side load.
Lifting and rigging attachments for chains or lifting slings can be configured to handle bulky or heavy loads. A sling is a lifting attachment that can be designed for moving specific loads, such as pipes, stones, transformers, drums, and augers. A lifting sling chain can be configured with one or more individual chains that are fitted with hooks or consist of looped chains that are configured to lift barrels or drums. Sling types are categorized as single slings, double slings, triple slings,endless or round slings, and remote release slings. A lifting sling strap is composed of a synthetic nylon fabric and is differentiated by the ply thickness, strap width, and the eye configuration at each end of the sling. Web slings, wire rope slings, fiber rope slings, and chain slings are also commonly available.
Lifting and rigging attachments for large cranes include pallet forks, wallboard and drywall forks, timber grapples, clamshell buckets, and flange-mounted or shaft-mounted rotators. A crane attachment is typically used for construction or excavation applications. Another type of crane accessory includes a lifting beam or spreader beam which is used to lift hard to handle loads. Lifting and rigging attachments such as hoist accessories are also commonly available.
China Dawson Industry Ltd. manufacture supply high quality Lifting & Rigging attachments, fitting, if you need some more information or interest our products,please contact us : info@dawson-group.com