Application of Lifting Slings, Round Sling, Webbing Slings
- Dawson Group Ltd. - China Manufacturer, Supplier, Factory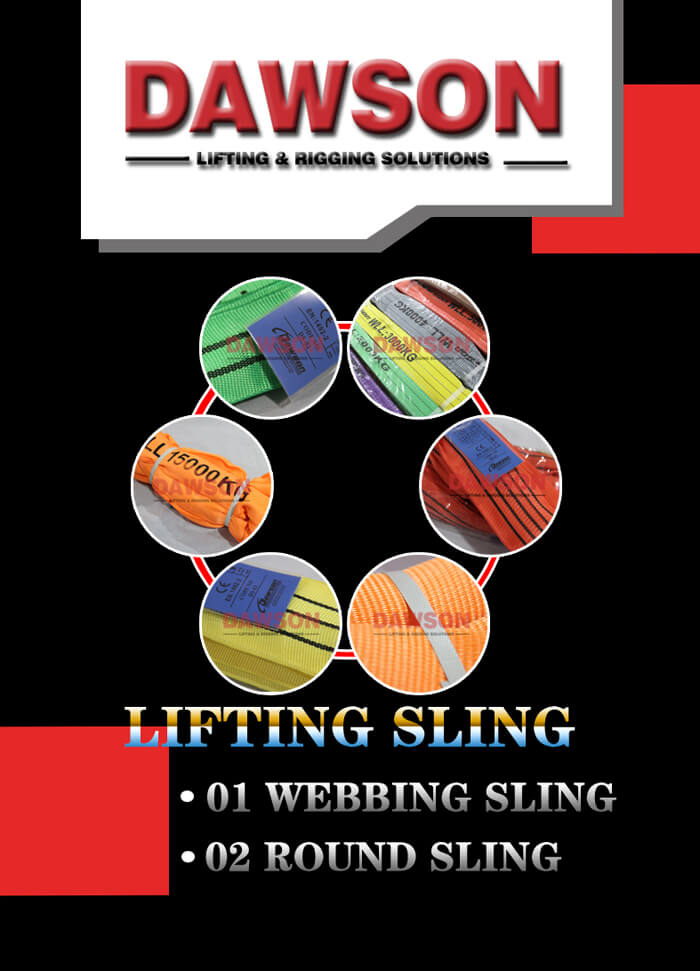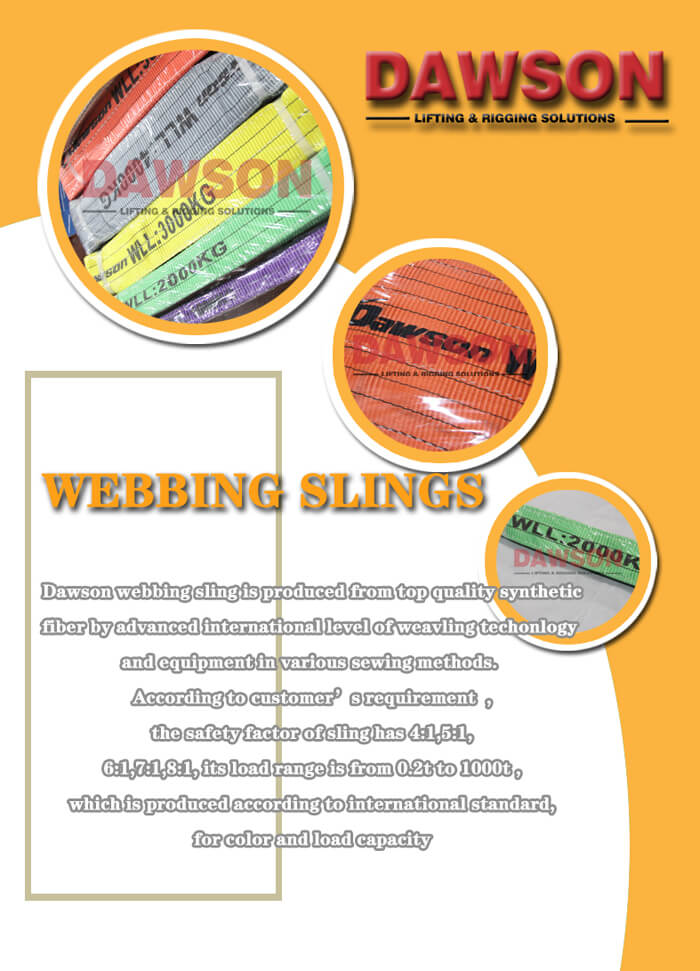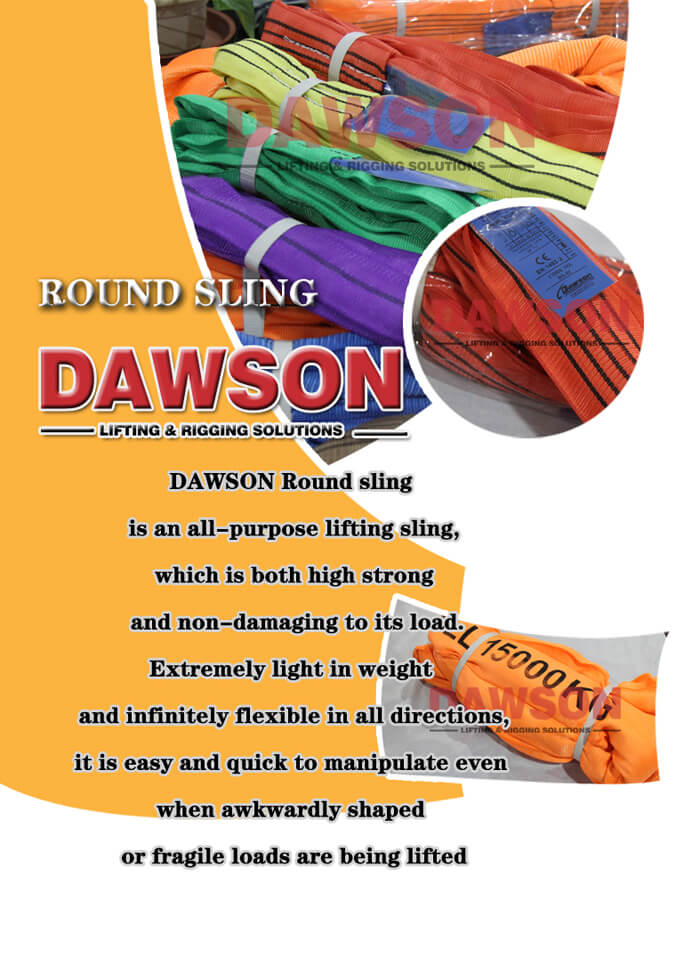 How lifting slings are rigged?
Vertical

Single leg to load in straight lift. The full rated lifting capacity can be used, but not exceeded.Load should not be allowed to rotate since this can damage the sling.

Choke

Using the sling as a choker reduces its rated capacity. Rating in the following sling charts have lower capacity for choker hitches than vertical loading to reflect this.When using a choker sling at an angle of less than 120 degrees(see drawing) the choker rated capacity must be reduced.




Angel of Choke Rated Capacity Factor

120-180=100%90-119=86%60-89=74%30-59=62%0-29=49%

Basket

A basket hitch equally distributes the load between the two legs of a sling. Consideration must be given to the angles created in basket hitches since they reduce the rated capacity.

(See "How Angles Effect Sling Stress" below)

As the angle between the legs of the sling increase, the load each leg has to lift increases. This applies to a single sling used in a basket hitch as well as a multi-leg sling or bridle. See illustration below.

1.First, divide the total load to be lifted by the number of legs to be used. This provides the load per leg if the lift were being made with all the legs lifting vertically.

2.Determine the angle between the legs of the sling and the vertical.

3.Then MULTIPLY the load per leg by the Load Factor for the leg angle being used (from the table at right) to compute the ACTUAL LOAD on each leg for this lift and angle.

NOTE: THE ACTUAL LOAD MUST NOT EXCEED THE RATED SLING CAPACITY.

4.Example: In drawing three (sling angle of 45 degrees):

1000 ÷ 2 = 500kg ( Per Leg if a vertical lift)

LEG ANGEL (Degrees)LOAD FACTOR 01.00051.003101.015151.035201.064251.103301.154351.220401.305451.414501.555551.743602.000
The Warning for webbing slings, round slings:

1. Failure to comply with this warning may result in serious load damage and death or injury.
2. Use only if trained.
3. Use only if trained.
4. Inspect sling for damage before each use.
5. Always protect sling webbing from sharp edges of load.
6. Do not attempt to use sling above rated lifting capacity.
7. Do not use sling if rated capacity tag is removed or unreadable.
8. Avoid acid, alkali and sunlight.
9. Do not tie knots in sling webbing as strength is greatly reduced.
10.Do not use sling if there are any signs of cut webbing, heat or chemical damage, excessive wear,or other defects.
We could offer the webbing sling, round sling as follows:
1) Material: polyester, nylon, polypropylene
2) Color: as code for example 1ton violet, 2ton green, 3ton yellow...10ton orange
3) Length: as required
4) Safety factor: 5: 1, 6: 1, 7: 1 or 8: 1
5) Standard: ISO4878, EN1492: 2000, AS-Standard
6) Lifting capacity: from 500kgs up to 1000, 000kgs
7) With CE, GS logo
We can supply the following products:
Round Lifting Slings
Endless Polyester Round Sling (to AS 4497)
Webbing Lifting Slings
Endless Polyester Webbing Sling-( AS 1353 )
If you need more information, please contact us: info@dawson-group.com.