G100 / Grade 100 Rigging Hardware Master Link Assembly With Flat for Chain
DS1012 G100 Master Link Assembly
- Dawson Group Ltd. - China Manufacturer, Supplier, Factory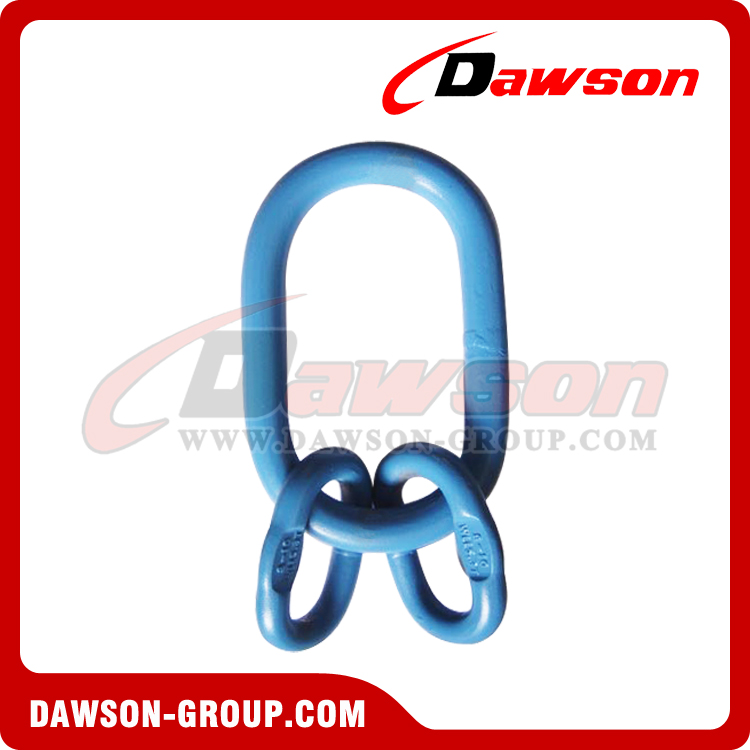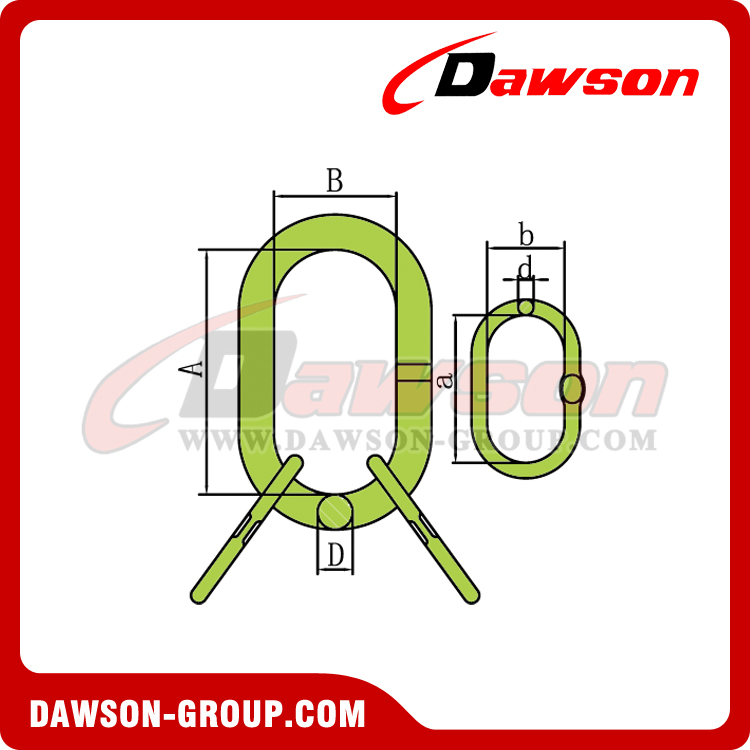 | | | | | | | | | | |
| --- | --- | --- | --- | --- | --- | --- | --- | --- | --- |
| Item No. | Weight/kg | WLL/T | B.L/T | A | B | D | a | b | d |
| 10-DS1012-06 | 1.3 | 3 | 12 | 135 | 75 | 19 | 54 | 25 | 13 |
| 10-DS1012-08 | 2.33 | 5.3 | 21.2 | 160 | 90 | 23 | 70 | 34 | 16.5 |
| 10-DS1012-10 | 3.7 | 8 | 32 | 180 | 100 | 27 | 85 | 40 | 19 |
| 10-DS1012-13 | 6.5 | 14 | 56 | 200 | 110 | 33 | 115 | 50 | 23 |
| 10-DS1012-16 | 10.1 | 21.2 | 84.8 | 260 | 140 | 36 | 140 | 65 | 27 |
| 10-DS1012-20 | 22.8 | 33.6 | -- | 350 | 190 | 50 | 150 | 70 | 33 |
| 10-DS1012-22 | 26 | 39.9 | -- | 350 | 190 | 50 | 180 | 100 | 36 |
All sizes: Main Link: forged Sub Link:welded
According to EN1677-4.
All sizes:there will be pressing flat only on request.
The pressing flat is for use with DS1027-G100 OMEGA LINK.
Forged or welded super alloy steel.
Suitable for use with G100 chain.
25% stronger than G80.
Individually proof tested at 2.5 times Working Load Limit.
100% Magnaflux Crack Detection.
Fatigue tested at 1.5 times Working Load Limit for 20000 cycles.
Meet standard EN1677.
Strict break load test.
Surface finish: Power plastified Colour: blue RALcode: RAL5015
All load pin are 100% individually inspected and tested.
Other Related G100 COMPONENTS
Supply only on special request. Not for recommendation.
For further information,please contact us. Email:info@dawson-group.com

| | | | |
| --- | --- | --- | --- |
| DS1016 | DS1017 | DS1018 | DS1025 |
| DS1026 | DS1019 | DS1028 | |