DIN 1480 Hook & Hook Turnbuckle
- Dawson Group Ltd. - China Manufacturer, Supplier, Factory
Material: Mild Steel or Cast Steel or Carbon Steel.
Made by Forged or Cast, (When asking the inquiry for Din1480, Must be indicated made by forged or casted!!)
Finished: Galv. self-color or Hot Dipped Galv.
Packing: Gunny bags or Cartons and then on pallets. (customer are available)
Please noted: the size of the body is same for the eye and hook, hook and eye, hook and hook.
Feature: Two Kinds Made, Cast and Forged. Forged with an advance quantity, Cast with a cheaper price
Advantage: widely used, easy handling for tightening.
Benefit: Save working time, correct tool give your correct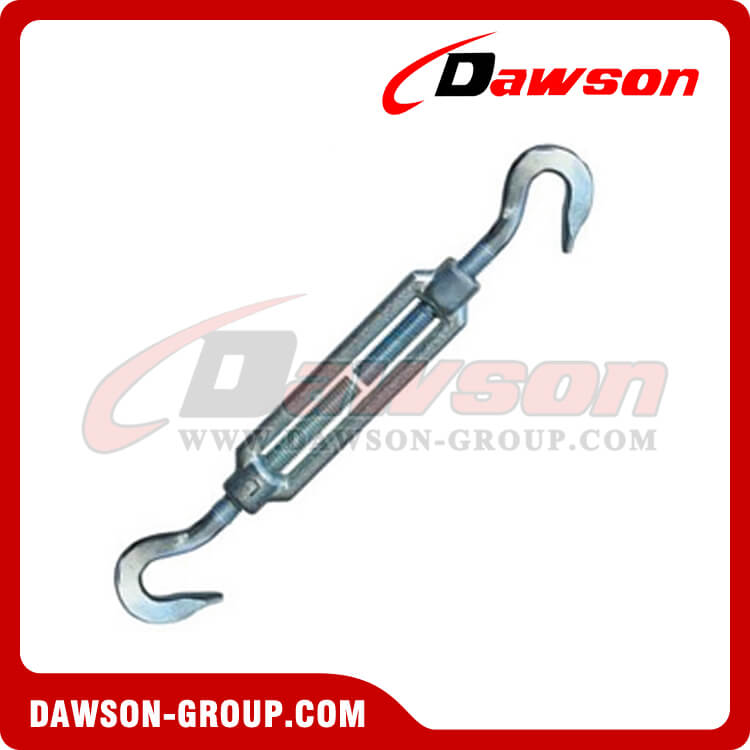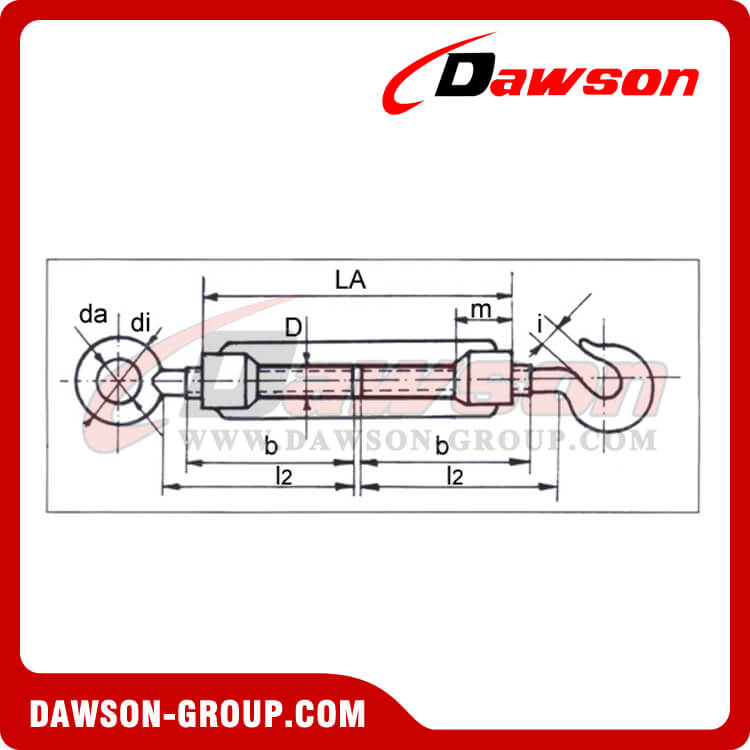 Item No.

Dia.

Permissible Load

Weight Peso

Dimension

11

m

12

b

di

da

i

mm

kg

N

kg/100pcs

mm

mm

mm

mm

mm

mm

mm

DS-GT148006




DS-GT148008




DS-GT148010




DS-GT148012




DS-GT148016




DS-GT148020




DS-GT148024




DS-GT148030




DS-GT148032




DS-GT148036




DS-GT148038

M6
M8
M10
M12
M16
M20
M24
M30
11/4"
M36
11/2"
230
418
663
948
1804
2752
3996
6371
6585
9276
9572
2250
4100
6500
9300
17700
27000
39200
62500
64600
91000
93900
7.8
14.8
29.4
36.3
91
156
325
415
595
745
1076
110
110
125
125
170
200
255
255
295
295
330
10
14
20
21
27
34
39
45
55
55
63
60
60
65
75
100
115
140
145
160
160
185
53
55
60
70
90
100
130
130
150
150
170
10
12
14
18
22
25
28
35
36.5
44
42
20
26
30.5
37.5
48
51
66
83
88
104
104
4.5
6.5
8
10.5
13
20
27
31
33
40
49